The compact and robust high-end hot wire cutter for ETICS insulation boards.
Benefits at a glance
Simple adjustment of the wire using thumb screws
Telescopic cutting bracket for cutting heights of up to 1300 mm
Foldaway longitudinal stop for repeat cuts
Swivelling guide rails on both sides with a scale for diagonal cuts
Adjusting screws to set precise cutting angles
Wire can be quickly inserted and removed using turning handle
Foldaway depth stop to quickly and easily set the depth of the panel
High-quality stainless steel guides for the cutting bracket
Integrated power supply for high speed cutting
The inoCUT Premium is a compact and robust hot wire cutter with an extendable telescope cutting bracket and an integrated power supply. With one turn, the cutting wire can be inserted or withdrawn. This special feature allows for significantly easier handling on site. In addition to a diverse cutting possibilities, the new inoCUT Premium also makes cutting angles of up to 7° possible.
Cut-outs for rafter beams and window sills of up to 34 cm are easily achieved with the optional corner cutter.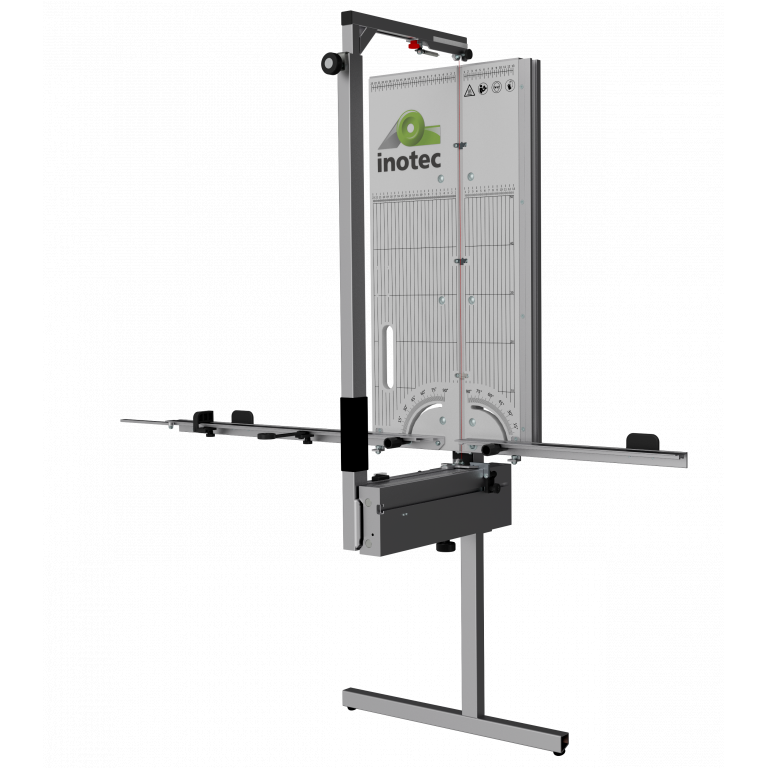 | | | |
| --- | --- | --- |
| Cutting length | cm | max. 130 |
| Cutting depth | cm | max. 90° = 34 cm / 45° = 22 |
| Machine technique | | Cutters |
| Dimensions (W x H x D) | mm | 1530 x 2150 x 580 |
| Weight | kg | approx. 17,5 |
| | |
| --- | --- |
| | inoCUT Premium |
| Corkboard | |
| Foam glass panels | |
| Hemp boards | |
| Mineral wool | |
| Phenolic resin panels | |
| Polystyrene rigid foam panels | |
| Polyurethane panels | |
| Potential cuts: Cut-outs | |
| Potential cuts: Diagonal cuts | |
| Potential cuts: Diagonal cuts with mitre joints | |
| Potential cuts: Groove cuts | |
| Potential cuts: Layered cut | |
| Potential cuts: Layered cuts with mitre joints | |
| Potential cuts: Layered groove cuts | |
| Potential cuts: Mitre cuts | |
| Potential cuts: Separating cuts | |
| Potential cuts: Straight cuts | |
| Rolls of clamping felt | |
Scope of delivery
inoCUT Premium
Item no. 10043779
Base plate
Swivelling telescopic cutting bracket
Left-hand and right-hand support strip
Power supply unit
Connecting cable
Support for using at a wall
Telescopic support leg
Railing fastening
Aluminium transport case with wheels
Operating instructions
Corner cutter for inoCUT Premium
Rafter cut-outs, corner cut-outs in window sills, metal fixtures, lintels, etc.
0 - 90° swivel
Degree scale and slider for diagonal cut repetition
Tool-free, fast wire change thanks to integrated reserve wire spool
With nylon pouch
Plugs directly into cutting device without any additional transformers
- Cutting depth: 510 mm / 300 mm
- Weight: 2.0 kg
Corner cutter for inoCUT Premium (Article No. 10043780)
Freestanding support for inoCUT Premium
Telescopic support so device can stand up by itself. Remains on the device after assembly
Freestanding support for inoCUT Premium (Article No. 10043781)