The efficient 230 V* delivery pump for liquid and paste-like materials
Benefits at a glance
For liquid and paste-like materials
Detachable plastic material hopper
High delivery rate
Continuously variable speed control using potentiometer
Simple operation
Can be combined with OWC machine technology (e.g. inoMIX E12) at any time.
The inoBEAM F30 is an efficient 230 V delivery pump suitable for a wide range of indoor and outdoor applications. The simple and clear layout of the operating elements make working safe and easy. With the optional sets that are available, the delivery pump can be converted for various fields of application in just a couple of steps. This offers maximum flexibility on your construction site thanks to unlimited areas of application (spraying, adhesion, filling, reinforcing and now also paint spraying, etc.) with an unbeatable price/performance ratio.
______________
* The machine is also available in 110 V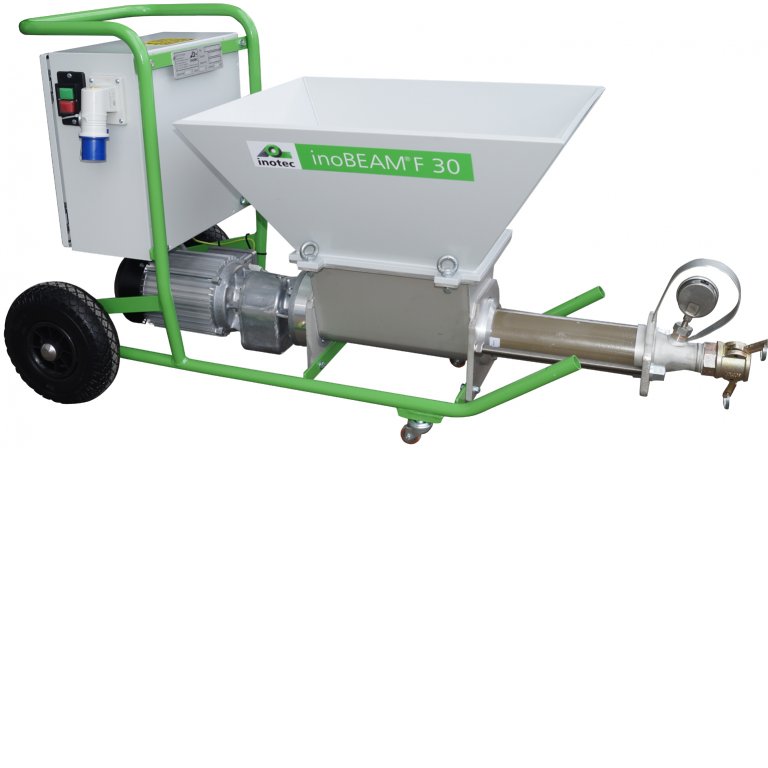 Video
| | | |
| --- | --- | --- |
| Operating pressure | bar | up to 40 |
| Operating voltage | V/Hz/A | 110-230 / 50 / 16 |
| Drive performance | kW | 3,0 (frequency controlled) |
| Delivery rate (depending on the material) | l/min | max. 2 - 50 |
| Conveying distance (depending on the material) | m | max. 80 |
| Pressure height (depending on the material) | m | max. 25 |
| Grain size | mm | max. 6 |
| Material container | l | 50 |
| Machine technique | | Delivery pumps |
| Dimensions (L x W x H) | mm | 1450 x 530 x 700 |
| Weight | kg | approx. 85 |
inoBEAM F30

Acoustic renovation paint
Airless spray-on smoothing compounds - with conversion kit 'HP'-F12 (see accessories)
Airless spray-on smoothing compounds - with conversion kit 'HP'-F30 (see accessories)
Bitumen
Cement pastes, suspensions
Cement plasters
Concrete bonder
Decorative fine coats
ETICS glue, mineral
ETICS glue, paste-like
Fibour plaster
Fine acoustic finishing coats
Fire protection mortar
Floor leveling compound
Floor spattling compounds
Lime cement plasters
Lime plasters
Lime smoothers
Liquid woodchip
Mineral textured plasters
Multi-layer acoustic spray plasters
Outdoor / indoor dispersion paint Silicate paint - with conversion kit 'HP'-F12 (see accessories)
Outdoor / indoor dispersion paint Silicate paint - with conversion kit 'HP'-F30 (see accessories)
Paste-like textured plasters
PCC- and SPCC-mortar / filler
Porous concrete coats
Rendering base
Renovating plaster systems
Reprofiling mortar
SPCC Spatula
Spray-on filling, bonding, plastering, reinforcing and can be combined with one-way containers
- with sets "D"-F12 and "D"- & "R"-F30
Spray-on spattling compounds
Basic module
Item no. 10041083
Scope of delivery
inoBEAM F30:
Frame
2 running wheels & 2 steering wheels
Plastic material hopper
Cover for material hopper
Gear motor
Switching cabinet
3 m connecting cable
Pump shaft
Pump housing made from stainless steel
Tool set
Assembly spray lubricant
Operating instructions
Set "D"-F30
for spray applications (18 l / 40 bar)
Item no. 10041913*
---
Set "R"-F30
for floor levelling compounds (50 l / 15 bar)
Item no. 10043416*
---
Set "HP"-F30
for airless spray-on smoothing compounds
(8 l / 90 bar)
Item no. 10044659*
------------------------------------------
* For delivery contents, see accessories