The handy 230 V* peristaltic delivery pump for liquid and paste-like materials
Benefits at a glance
Lightweight, small and handy
For liquid and paste-like materials
Extremely efficient peristaltic pump technology
Simple operation
Very fast cleaning and maintenance
Continuously variable quantity control
Suitable for dry running
Detachable plastic material hopper
Forward and reverse running
Can be combined with large containers (drum)
The inoBEAM M8 delivery pump handles materials based on the walk principle. A flexible rubber disc pushes the material to be conveyed through the pump housing and into the material hose. This delivers a considerable benefit: less frictional heat is generated and the material is conveyed very efficiently.
The very fast cleaning and simple maintenance processes keep operating costs low and save time.
_______________
* The machine is also available in 110 V
---
This video shows the assembly and operation of the inoBEAM M8 delivery pump.
It does not replace reading the original operating instructions.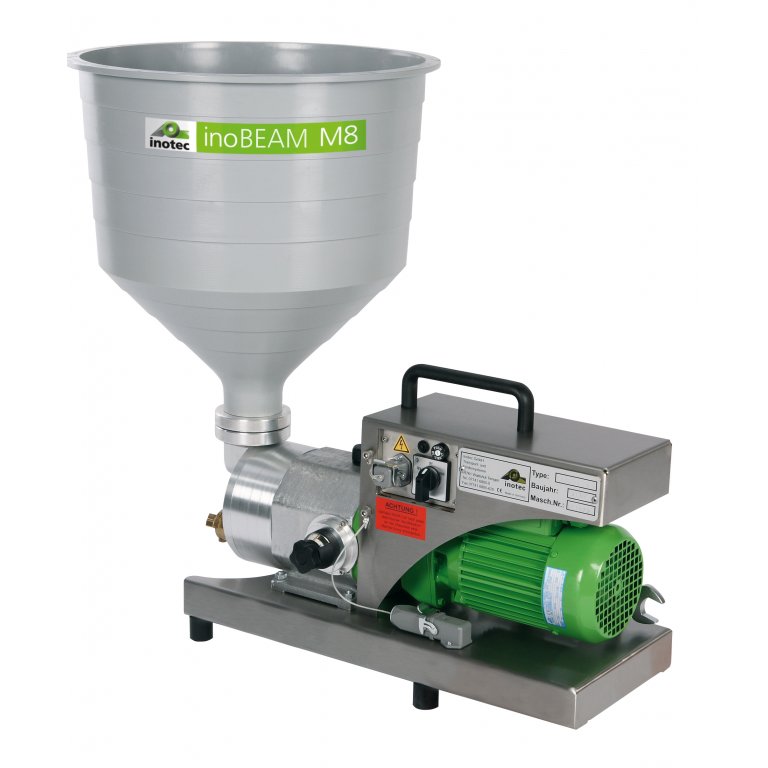 Video
| | | |
| --- | --- | --- |
| Operating pressure | bar | up to 15 |
| Operating voltage | V/Hz/A | 110-230 / 50 / 16 |
| Drive performance | kW | 0,55 |
| Empty weight | kg | 28 |
| Delivery rate (depending on the material) | l/min | max. 0 - 8 |
| Conveying distance (depending on the material) | m | max. 30 |
| Pressure height (depending on the material) | m | max. 20 |
| Grain size | mm | max. 3 |
| Material container | l | 30 |
| Machine technique | | Delivery pumps |
| Dimensions (L x W x H) | mm | 600 x 230 x 750 |
| Weight | kg | approx. 28 |
inoBEAM M8

Acoustic renovation paint
Airless spray-on smoothing compounds - with conversion kit 'HP'-F12 (see accessories)
Airless spray-on smoothing compounds - with conversion kit 'HP'-F30 (see accessories)
Bitumen
Cement pastes, suspensions
Cement plasters
Concrete bonder
Decorative fine coats
ETICS glue, mineral
ETICS glue, paste-like
Fibour plaster
Fine acoustic finishing coats
Fire protection mortar
Floor leveling compound
Floor spattling compounds
Lime cement plasters
Lime plasters
Lime smoothers
Liquid woodchip
Mineral textured plasters
Multi-layer acoustic spray plasters
Outdoor / indoor dispersion paint Silicate paint - with conversion kit 'HP'-F12 (see accessories)
Outdoor / indoor dispersion paint Silicate paint - with conversion kit 'HP'-F30 (see accessories)
Paste-like textured plasters
PCC- and SPCC-mortar / filler
Porous concrete coats
Rendering base
Renovating plaster systems
Reprofiling mortar
SPCC Spatula
Spray-on filling, bonding, plastering, reinforcing and can be combined with one-way containers
- with sets "D"-F12 and "D"- & "R"-F30
Spray-on spattling compounds
Basic module
Item no. 10000080-008
Scope of delivery
inoBEAM M8:
Rack made from stainless steel
Plastic material hopper
Gear motor
Peristaltic pump unit
Electrical control system with
3 m connecting cable
Operating instructions
inoBEAM M8 Bitumen Set
Item no. 10042326
Scope of delivery
As with the basic module
(item no. 10000080-008)
Plus:
10 m combined material hose with a diameter of 1"
Angled spray head with
GEKA coupling incl. 8 mm nozzle
Remote control cable, 16 m
Cover for material hopper
inoBEAM M8 Plaster Set
Item no. 10040770
Scope of delivery
As with the basic module
(item no. 10000080-008)
Plus:
10 m combined material hose with a diameter of 1"
Spray pipe with nozzles (4, 5, 6, 8, 10, 13 mm)
Remote control cable, 16 m
Cover for material hopper